Basics | Germinating | Root Chamber | Rockwool/Sex | Flood/Drain | Drip | Pump | Lights | Shelve Growing | Nutrients | Links

---

LIGHTING

HOME GROWN

Growing indoors.

Growing under lights allows plants to be in light 24 hours a day, promoting vigorous growth. Some growers use 18 hours light and 6 hours dark. Many types of lights are available. Agro-type HPS and MH lights are better for growing in doors and a single 400watt light is easier to handle ten 40watt fluoro lights. However they are expensive and require a control box to fire the globe($200 - $400 for a 400watt globe, reflector and control box.). Fluorescent lighting is also effective, Gro-lux and other Agro-type tubes are available but aren't as powerful. Fluorescent light fitting can be purchased second hand for about $5 - $15 for single a 36 watt fitting and $10A - $25 for a double 72 watt fitting. New fitting are about twice the maximum cost of second hand unit.

Only one double fitting can grow many plants until they about 2 weeks old. As they grow taller the light is too dim at the sides and bottom of plant, more tubes will be needed to light these parts of the plant. The light from fluoro's needs to be very close to the foliage about 10cm. max., heat may cause burning or curling of the leaves if there touching the tube. If there are 6 large plants they will need 10 or 12 of 36 watt fluorescent tubes.

I used Fluoro's on my first 2 indoor crops starting with 4 tubes then adding tubes every week or two, as this was all I could afford. This setup soon supplied us with plenty of smoke and a quality that made buying on the street pointless. Before this I always been broke or in hock, paying for smoke and after while growing and not buying a could afford to get a 400watt HPS fitting and Son Agro globe. I was amazed at how the growth rate and strength improved with the 400w HPS.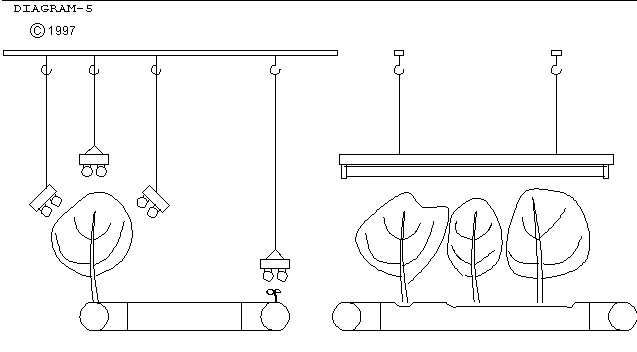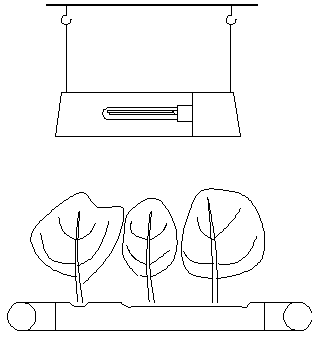 HOME GROWN
Basics | Germinating | Root Chamber | Rockwool/Sex | Flood/Drain | Drip | Pump | Lights | Shelve Growing | Nutrients | Links
Copyright 1997 Published by Busiweb
---
The web space provider is not responsible in any way for the content of this page
---