Home School Diary
Download Page, download both files
HSD8.ZIP
VSVBVM60.DLL VB RUNTIME FILE
Software for Home School Diary software for students with intellectual disabilities downs syndrome, autism, fragile X or any other intellectual disability

The software does not include pictures (use your compics) apart form some pictures to prevent errors when program runs the first time, blank.bmp and nopic.bmp(must be in the same folder/directory as the program) are required by Home School Diary, .BMP . WMF . DIB . JPG .GIF. format pictures may be used The pictures, large pictures will be sqashed and load slowly. The program must be set up for each user.
Home School Diary requires the VB runtime file to be installed in the \WINDOWS\SYSTEM folder/directory
VB RUNTIME FILE VSVBVM60.DLL
Screen capture of Home School Diary 8 shown 66% of full size the print area is the top half of the window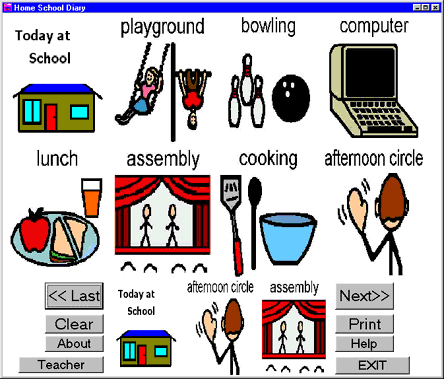 About Homeschool Diary
Homeschool Diary Is Freeware/Shareware
Any disabled individual may use this software for personal use with Free Registration.
Free Registration is also extended to Public schools for student with disabilities in Australia.
All others must pay $20 for registration
Software may used for a minimal eveluation period (2 weeks).
Use of software without registration is illegal, if you use this software to make money you must pay $20 to register
Send Registration to:
Robert Keefe
10-10 Parkes Ave
Werrington N.S.W. 2747
Australia
wrestling@froggy.com.au
Homeschool Help
Click on the pictures at the bottom to place the picture in the printing area.
Clicking on last picture in printing area will be deleted it

Change Pictures by clicking the Teacher button to load Picture File Manager.
Click on a picture file name in file list to display picture Click the Add picture button to add picture to the current picture list
Use the Save button to save the picture list to the file name / location shown in the text box below the save button
Click the Picture File button to display Picture list files.
Select a Picture list file and click the Load Picture File button to load the file.
Using the Save button will make this Picture file load next time the program is run.
You may need to set your Default printer to Landscape paper orintation.